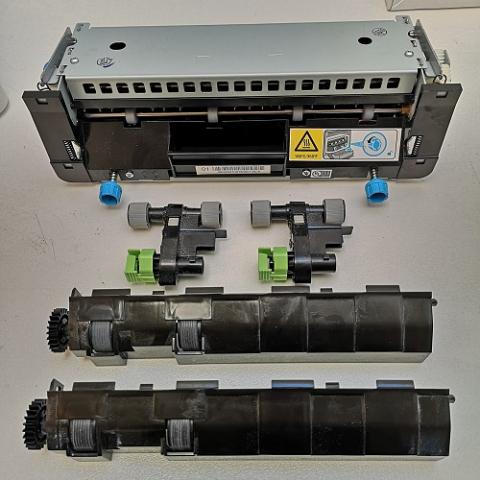 Lexmark Fuser maintenance kit, part number 40X8421 fitted recently to a clients Lexmark MS817DN printer that had already done 600k prints to date.
The Lexmark 40X8424 maintenance kit has a page yield of 200,000 prints and consists of a fuser unit, 3 X pick rollers, 3 X separation rollers and a transfer roller.
The maintenance kit is also compatible with the following Lexmark laser printers, MS710dn MS711dn MS810de MS810dn MS810dtn MS810n MS811dn MS811dtn MS811n MS812de MS812dn MS812dtn MS817dn MS818dn MX710de MX710dhe MX711de MX711dhe MX810dfe MX810dme MX811dpe MX811dxfe MX811dxme MX811dxpe MX812dfe MX812dme MX812dpe MX812dxfe MX812dxme and MX812dxpe.
Use the quick contact form or call us to discuss your service requirements