Home printer repairs and servicing in Leeds Bradford West Yorkshire is a service we offer, to save costs you are welcome to bring your home office printer to our office (this needs arranging) and we will diagnose and repair these at a very cost effective rate, contact us with your model for our diagnostic fee, if no parts are required many machines are repaired for only the diagnostic fee, call Yorkshire Office Machines on 0113 2296770 for a quote
Many many repairs are cost effective like paper jams, paper sensors coming loose, red light blinking, orange light flashing, 5B00 error code, paper feed rollers dirty, encoder strip cleans, blocked printheads, document jams, lines on scans, paper feed kits installing etc etc.
If you find yourself searching google for home printer repairs near me, faulty inkjet printer, home printer fix near me, home printer repair near me, home printer repairs Leeds, home printer repairs Bradford, home printer servicing, home HP printer repairs near me, home laser printer support, home photocopier repair near me then give us a call, often people have more value in their ink stocks than the printer itself, especially if using OEM original ink.
Is it worth repairing an inkjet printer or can printers be repaired, give us a call to find out our home printer repair support option.
In house repairs for Brother, HP Hewlett Packard, Canon, Samsung, Epson, Lexmark Kyocera, Ricoh, Oki, Xerox, Toghiba, Dell, Konica Minolta, Tally, Panasonic, Olivetti and Zebra brands
Epson printers will sometimes display "Parts inside the printer have reached the end of their service life" and some Canon machines will display "The Printer's Ink Pads at the end of Their service life" 5B00 or orange light flashing 7 times, we can repair, service and reset this.
This Epson WF3520 printer required a maintenance kit fitting and a service to clear poor print quality.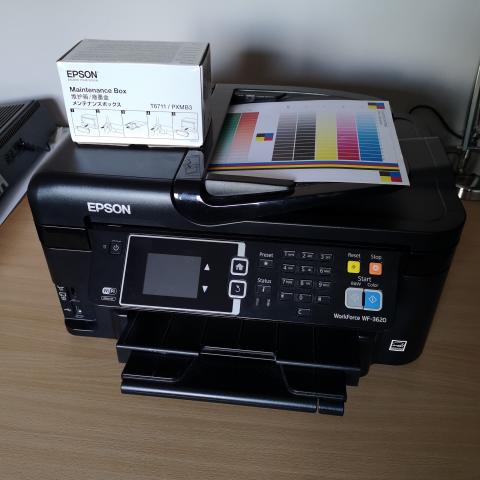 Use the quick contact form or call us to discuss your home printer repair requirements
 Manufacturers warranty expried then contact us.
Brother, HP Hewlett Packard, Canon, Samsung, Epson, Lexmark Kyocera, Ricoh, Oki, Xerox, Toghiba, Dell, Konica Minolta, Tally, Panasonic, Olivetti and Zebra