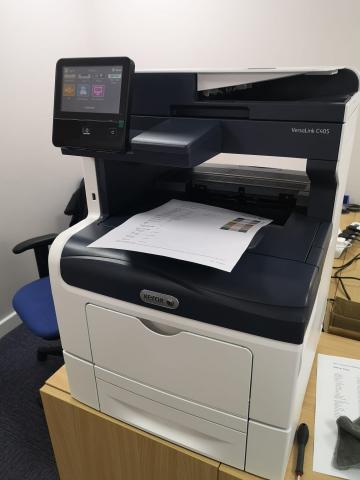 Xerox Versalink C405 colour printer with only 45000 prints requiring a new set of paper feed rollers, part number 675K47673, the separation roller had a large flat spot and this was causing random jams in the paper cassette, the 3 rollers in the paper feed kit are identical and can be swapped around temporarily to get the printer up and running but by swapping the paper feed kit the machine ready to print again.
The paper feed - retard roller kit part number 675K47673 is also compatible with the Xerox Versalink C400, Xerox Phaser 6600, Xerox Workcentre 6605, Xerox Phaser 6180MFP, Xerox Phaser 6280MFP and the Xerox Workcentre 6655 printer range.
Xerox part number can also be known as 675K47670, 604K77672, 675K47671, 604K55370, 675K47672.
Xerox paper jam repair